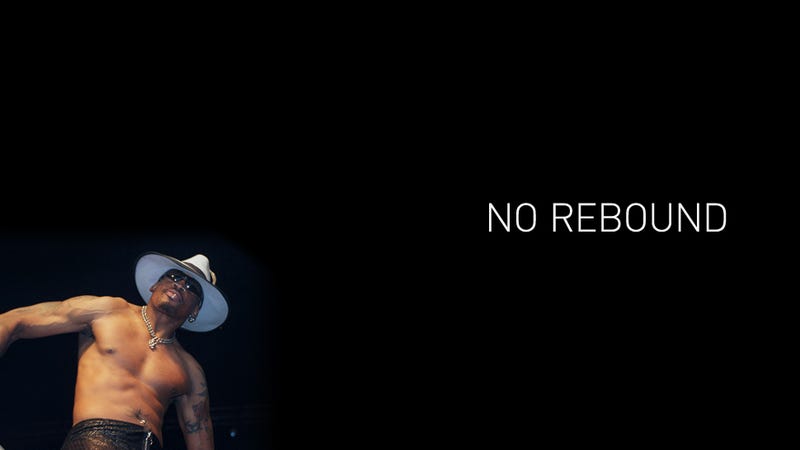 Originally published as "No Rebound" on June 1, 2003, in The New York Times Magazine. Footnotes from the author are included throughout the story.

Dennis Rodman, one of the greatest basketball players of all time, lounges in a chair on the patio of his oceanfront home in Newport Beach, Calif. After multiple hues and shades, Rodman's hair is back to its original black, although it's now permanently brittle. Jeans and a long-sleeve T-shirt advertising Josh Slocum's, a restaurant and nightclub nearby that he co-owns, obscure the tattoos. For his entire adult life, Rodman has vacillated between sweet child and self-destructive adolescent. At the moment, the teenager seems to be dominating. The seven-time National Basketball Association rebounding champion and onetime Jean-Claude Van Damme co-star seems giddy and a little incoherent.
"Welcome to Rodman's Reef," he shouts. "Welcome to my crazy world. Put your tape recorder away, have a beer and write anything you want. One rule: you gotta match me drink for drink." He pauses, then adds seriously, "Just please don't say I'm an idiot."
Michelle Moyer, a 36-year-old blonde and the mother of Rodman's two youngest children, ages 2 and 1, reclines nearby in a black bikini. Their relationship is unorthodox. Moyer and the kids live a couple of miles away. Rodman, a chronic insomniac, often stops by in the wee hours after making a Pampers run or picking up roses for Moyer. They were married on May 13, Rodman's 42nd birthday, just four months after Rodman was arrested on suspicion of domestic violence. The marriage is Rodman's third. His first ended after 82 days; the second, to the model-actress Carmen Electra, lasted five months.
Already it is hard to remember how famous Dennis Rodman was. But just six years ago, the president of the United States actually answered a question about Rodman, who had kicked a photographer during a game. "I'm sure in his heart of hearts he regrets doing that," Bill Clinton said, adding, "I'm a big Rodman fan."
This was a year after Rodman announced his refusal to perform oral sex on Madonna, a revelation made public in Bad as I Wanna Be, his 1996 memoir, which became a New York Times best-seller.
All of that seems far, far away. Like an aging sitcom that keeps getting moved to a worse and worse time slot, Dennis Rodman's celebrity is near cancellation. Rodman, by 1998 second to his teammate Michael Jordan in name recognition among basketball players, has no endorsements, no public appearances and few prospects. Rodman's collapse is classic American overexposure. Call it the Action Figure Syndrome. From William Shatner to Mr. T, few survive being molded into 11 inches of plastic. It's a sign that America has made your acquaintance, fallen in love and gorged on your image. And we all know what happens next in romance and marketing: boredom followed by contempt. Today, it's a short road from the cover of GQ to a throwaway line in Conan's monologue.
Rodman is in an even deeper hole than Captain Kirk and T, who enjoyed second acts in the wink-wink world of postmodern America, mocking their own cornball images in commercials. Unfortunately, Rodman morphed through so many decidedly noncornball configurations his first time around that there are few acts left.*