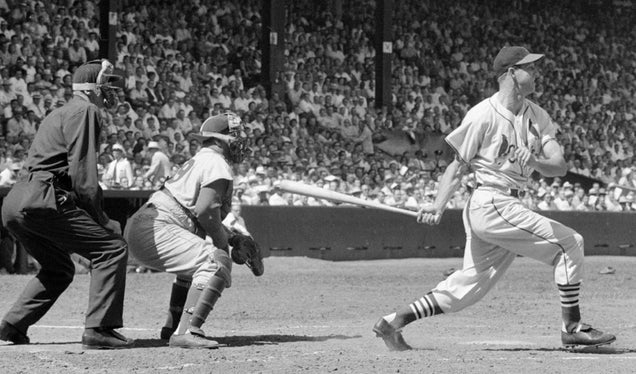 S
People liked Stan Musial. And he liked them. His teammate (and badass competitor supreme) Bob Gibson once said, "Stan Musial is the nicest man I ever met in baseball. And to be honest, I can't relate to that."
Musial played like a happy animal. In 1948, when he missed the Triple Crown by a single home run, he hit .376 with 39 homers and 131 RBIs. He also had 46 doubles, 18 triples — and 34 strikeouts. Thirty-four! All year! What the hell? Back in 2001, when he was playing for Cleveland, Jim Thome struck out 34 times in one doubleheader.
[See rare and classic photos of Stan Musial, on and off the field.]
With the Cardinals in a 3-2 hole against the Sox after Jon Lester's Monday night gem, here's a tip of the cap to the greatest Redbird of them all. Stan Musial was, and always will be, the Man. We will not see his like again.
Ben Cosgrove is the editor of LIFE.com. Picture This is his weekly (and occasionally more frequent) feature for The Stacks.
Photo: Francis Miller—Time & Life Pictures/Getty Images