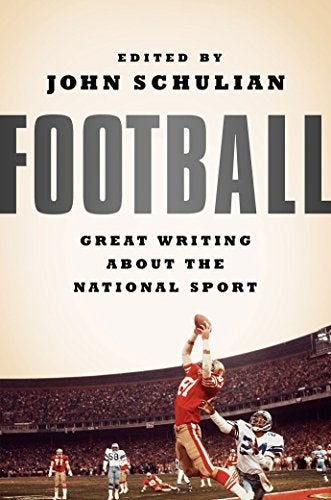 Today marks the publication of the Library of America's latest sports anthology—-Football: Great Writing about the National Sport. It's edited by our old chum John Schulian.
The book is terrific and I recently had a chance to chat with John about football writing and how he put this collection together.
Dig in.
Alex Belth: When you read boxing or baseball anthologies, there's usually a lot of material written before WWII. I noticed less material from the early decades of the last century here. What is it about the more old-timey football writing that makes it uninteresting?
John Schulian: I know how it must look: the old-timers don't seem to get much love even though I'm an old-timer myself. What you have to realize is that football before World War II, and even for more than a decade after it, was hardly the cultural and economic behemoth it is today. Baseball, boxing, and horse racing ruled the sports pages and the nation's imagination. Football had to be content with harbingers of a better tomorrow—Jim Thorpe and Bronko Nagurski running wild, Slingin' Sammy Baugh uncorking touchdown passes, George Halas and his fellow dreamers laying the foundation for the National Football League. It was swell that Fitzgerald and Irwin Shaw found inspiration in the games that gave old alums in raccoon coats a reason to howl, but the truth was still the truth: Football had some serious catching-up to do.
Beyond that, the writing it inspired was generally pretty dreary unless you have a high tolerance for adjectives, mixed metaphors, and stories dashed off by scribes who nipped from their flasks for four quarters. You'll notice, for instance, that I made a point of not including Grantland Rice's oft-reprinted paean to the Four Horsemen of Notre Dame. To do so would have meant wading in the sludge of old Granny's hyperbole, and I wasn't about to risk scaring off readers that way. Instead, I went with an excerpt from his memoir about how he came to write the piece and, ever since, I've wondered how different it would be if Rice had been able to avail himself of today's press-box replays and the locker-room interviews that were so scarce when he walked the earth.
Football is hard to cover under the best of circumstances, and the old-timers clearly suffered because of the primitive conditions under which they worked. I like to think that's why I came up empty when I looked for compelling pieces by Heywood Broun and Damon Runyon. Both were memorable writers and, yet, when I read what they had to say about the sport, it seemed strained, uninformed, almost naïve—in other words, it was a lot like everything I ever wrote about hockey. I thought I would do better with Stanley Woodward, an ex-college lineman whose greatest achievements were as the no-guff, no-pandering sports editor of the New York Herald Tribune. I even knew a line from the Woodward story I hoped to use. When an inconsequential gaffe made a University of Michigan lineman the villain of a major upset, Woodward wrote: "Attributing that catastrophe to such a cause was like blaming the Johnstown flood on a leaky toilet in Altoona, Pennsylvania." Let's just say the line may have seemed so memorable because everything Woodward wrote before and after it was so forgettable.
Now I stand before you grateful that I was able to find what I did from football's Pleistocene era. Grateful for W.C. Heinz's visit with Red Grange, the first of the great broken-field runners, and for Myron Cope's hilarious yet compelling interview with the self-named Johnny Blood, a vagabond as both a player and a coach. Grateful for Shirley Povich's generosity when covering a football slaughter, and for the hat President Truman lost after an Army-Navy game, as if he knew Red Smith was looking for a way into a column. And if someone were to step forward now with a sheaf of the kind of pieces I couldn't find, I'd be grateful for that, too. But it wouldn't have changed football's status as a stepchild in those early days, and if it pains you to read that, just hold on. Things got better in a hurry.
AB: I loved the Myron Cope piece. I know he's best remembered as a broadcaster in Pittsburgh, but he had serious chops as a writer. He's my favorite of the Sport magazine freelancers from the '60s.
JS: Cope was an absolute joy to read whether it was in Sport or Sports Illustrated or even True, which in the Fifties and Sixties was always showcasing sports writing heavyweights like W.C. Heinz and John Lardner and stars in the making like Jimmy Breslin, Dave Anderson, and Jerry Izenberg. Cope fit right in thanks to his sly wit and affinity for exotic characters. One month he'd be writing about Bo Belinksy, Muhammad Ali, or a self-promoting football scout named Fido Murphy, and the next month he'd be telling the sad tale of the Steelers team that sobered up for a showdown with the Giants and got hammered in a non-alcoholic way. But mention his name in Pittsburgh these days and the Cope the locals remember wasn't just the Steelers' funny, passionate, idiosyncratic play-by-play man, he was the inventor of the Terrible Towel, which for hardcore fans puts him in the same category as Jonas Salk.
Myself, I'm a lot more impressed by a collection of his best magazine work called Broken Cigars, and I've never been able to understand why someone hasn't reprinted it. But having said that, I'm here to tell you Cope's greatest achievement was as an oral historian. Sports Illustrated sent him out to track down the seminal figures of pro football's early days, and he came back in 1970 with the makings for The Game That Was, which did for the sport what Lawrence Ritter's The Glory of Their Times did for baseball. The Library of America didn't want a lot of book excerpts in Football, but I never doubted for a minute that Cope's interview with a free spirit—wild man, actually—named John McNally would make the cut. While he was migrating from one college to another, he and a teammate wanted to earn some pocket money by playing semipro on the side. They couldn't use their real names, of course, so they searched and searched and finally found just what they needed on a poster for a swashbuckler movie called Blood and Sand. All the man who became Johnny Blood had to do after that was wait for Cope to show up.
AB: Beyond Red Smith and Shirley Povich, I awas taken with the column on Jim Brown by Jimmy Cannon. Those are not a pair I would have put together. I knew there'd be a Jim Brown story in this collection—how could there not be?—but I wouldn't have expected one from Cannon. I know Cannon was a great columnist in his prime but his reputation has faded through the years. Were you looking for a Cannon piece specifically?
JS: I've been campaigning to put together a collection of Cannon's greatest hits for the past few years, and though I've yet to find a taker, I always bring up his Jim Brown column when I'm bending someone's ear. This is Cannon at his absolute best, spending the afternoon watching Brown trample the Giants and then taking what he saw in a direction that never would have occurred to another writer. Who else would have made the leap from a game that big to a recollection of the day he first heard Enrique Caruso, the great opera singer? Who else would have used the occasion to wax nostalgic about "the old neighborhood" and a barbershop run by a guy named—stop it, you're killing me—Joe? But somehow Cannon makes it work with the magic he had when the stars were aligned and the wind was at his back. He was always stretching, always straining to out-write everyone, and a lot of times you could hear him grunting and groaning from the effort. This time, however, his words take flight, and the greatness on display is his as much as it is Brown's and Caruso's.
If you're surprised to find Cannon writing about Brown, don't be. The year was 1963 and Brown, to the best of my knowledge, had yet to rough up his first lady friend. Later, of course, it would become a recurring theme in his life, one I suspect Cannon, imbued with dry-drunk gallantry, would have used as a reason to tee off on him, disdain him, or both. But in or out of trouble, no one ever denied that Brown is a fascinating and complex character—perhaps the greatest running back ever, a movie star of some significance, a mentor for kids swept up in L.A. thug life. His name echoes through any number of the pieces in the book, and if I'd had more pages to work with, there would likely be one or two others devoted solely to him. God knows they're out there, splendid work by splendid writers. But when I could only choose one, Cannon made it easy for me.
AB: What stuff did you include from the '60s?
JS: Myron Cope would have been an obvious choice, but he was already in the book. The same with Bill Heinz, whose Run to Daylight! was the first great look at the brilliance and indomitability of Vince Lombardi. I had already committed to Heinz on Red Grange, though, and I never regretted it because St. Vincent inspired so much compelling writing. Leonard Shecter stirred things up with a profile of Vince Lombardi for Esquire that was so mean it made Mrs. Lombardi cry; I loved it in my Young Turk days, but when I gave it a second look all these years later, it seemed gratuitously cruel and, much as I admire Shecter, riddled with buncombe. Sorry, no sale. On the other hand, there was the Jerry Kramer-Dick Schaap collaboration, Instant Replay, the chronicle of the Packers' 1967 season that ruled the bestseller lists and begat a stampede of as-told-to books. We're talking about work done nearly half a century ago, and it holds up because of the authors' commitment to the truth. Nor does it hurt that Lombardi endures as a subject to this day. David Maraniss, the superb Bill Clinton biographer, seized on the old boy's staying power and delivered a state-of-the-art study of Lombardi. If I'd failed to include something from it, I'd be guilty of dereliction of duty.
I feel the same about the excerpt from Paper Lion, George Plimpton's chronicle of his training-camp exploits as the Lions' last-string quarterback. The grace and self-deprecating wit in Plimpton's prose always reminds me of Cary Grant's acting. But even without my confession that I'm a sucker for it, any literate football fan should see the Plimpton excerpt coming. I hope I've thrown readers a curve—pardon my mixed sports metaphors—by mixing in two looks back at the Sixties by writers from other precincts. First is Baltimore boy Frank Deford, the star in SI's crown for so many years, lifting a glass to the city's beloved Johnny Unitas. Then there's Jennifer Allen recreating a New Year's Eve with her father, George Allen, after he'd been fired as the Los Angeles Rams' head coach on Christmas Eve. Happy holidays, huh? It felt good to include the excerpt from Jennifer's book Fifth Quarter for a couple of reasons. One, she's an incisive and fearless writer. Two, I was able to make amends in some small way for the many times I described George as the NFL's answer to Richard Nixon. Yes, he could be pretty crazy, loving ice cream because he didn't have to waste time chewing and writing me off as a Baltimore fan on first meeting simply because I'd worked on a newspaper there. But there was never any doubting his genius for defense or his love for the beat-up old pros who populated his roster. And here's what should have convinced me that my opinion of George needed an overhaul long ago: Those old pros loved him back.
Jimmy Breslin, the ultimate New York columnist, loved old pros, too. I get the feeling from his piece on Y.A. Tittle's last stand that he may have loved them most when they lost. They didn't whine or bitch, they just picked themselves up and moved on because they knew they had done everything they could. It wasn't enough, but it was all they had, and there was something noble about taking satisfaction in that, the way Tittle does when he can't quarterback the Giants past the Browns.
Breslin, like Bill Heinz before him, knew the losers' locker room was fertile ground for great stories. But every time he looked around before he began covering the city at large, he found more young scribes in there with him. It was all part of the seismic change that the Sixties brought to sports writing. The best of them threw off the shackles of clichés and rah-rah coverage and started serving up humor and social commentary. If they could work in a song lyric by the Grateful Dead or something Humphrey Bogart said in Casablanca, so much the better. On the East Coast, there was Larry Merchant, who had made irreverence and unblinking insight his stock in trade first as sports editor of the Philadelphia Daily News and, by the end of the decade, as a columnist at the New York Post. He knew something about football, too, having been a schoolboy star in New York and a self-described "last-string halfback" on Bud Wilkinson's Oklahoma powerhouses in the Fifties. What Merchant knew even more about, however, was the cultural significance of Broadway Joe Namath. I think you'll see what I mean in the excerpt I pulled from his book … And Every Day You Take Another Bite.
At the same time, on the other side of the country, Jim Murray was playing his Los Angeles Times sports column for laughs with a mix of joy and intelligence that hadn't been seen since Ring Lardner and his son John were running amok. Murray looked at sports in a funhouse mirror, delivering lines that are still quoted in press boxes and around breakfast tables half a century later. And oh, did he have fun when the Jets upset the Colts in the Super Bowl: "The missionaries ate the cannibals." You know that one's in the book.
What you may have realized by now is that none of the writers representing the Sixties were hard-nosed, watch-every-practice, grill-every-source beat reporters. The guys who fit that description best were Paul Zimmerman, who made his bones at the pre-Murdoch New York Post and later moved to Sports Illustrated, and Will McDonough, the Boston Globe enforcer who punched out a Patriots defensive back. I suppose I should mention Tex Maule, too, because it was his story in SI about Unitas leading the Colts over the Giants in overtime that bore the headline "The Greatest Game Ever Played" even though he never used those words himself. Maule was a reformed trapeze artist and former public-relations man who became a tool of the NFL in its war with the ragtag but thoroughly enjoyable American Football League. (Enjoyable, that is, to those of us enthralled with 57-56 scores and old goats like George Blanda and Tobin Rote.) But Maule's greatest sin in the context of this book was that he was a ham-fisted writer, which disqualified him from inclusion. Alas, Zimmerman and McDonough had similar artistic deficiencies, so their prose didn't make the cut, either, and that's unfortunate. Without the digging they did—Zim on the intricacies of the game, McDonough on front-office shenanigans—the stylists who followed them never would have had such a well-lit path to travel.
AB: Of course, a certain amount of the material in a book like this is going to be personality-driven. Were there any specific players or coaches you wanted to feature?
JS: It would have been a fool's mission to try to make room for all the players who've been anointed as superstars and all the coaches who've been praised as smarter than Einstein. And big games? The nation turns its lonely eyes to them every weekend, in every NFL division and college conference. Biggest game of the season, biggest of the century, no matter how many times we've heard it, we still love to fall for it. Everything is outsized—the players, the coaches' egos, the alumni pressure, the TV money—and the book could easily have wound up looking like it was on steroids. But I didn't want to scare off people by turning it into a doorstop.
The best solution I could come up with was to select pieces that were, for lack of a better word, emblematic. You want quarterbacks, you've got Deford on Unitas and the pluperfect Charlie Pierce on Peyton and Archie Manning, which I like to think covers a lot of territory historically. You want linebackers, you've got Arthur Kretchmer on Dick Butkus , and while Kretchmer was no sports writer, I admire the way he parked himself next to Butkus and hung on for dear life. on the sideline and zeroed in on the guts of the game. You want coaching legends, you've got the street-smart novelist Richard Price putting his Bronx accent up against Bear Bryant's tobacco-cured mumble and Gary Cartwright, a Texas legend, deciphering what went on under that hat Tom Landry wore. We're talking about big names here—icons, if you believe in that sort of thing—but each piece reveals its subject as a human being. With all the blather and blare surrounding football, we need to be reminded of that occasionally.