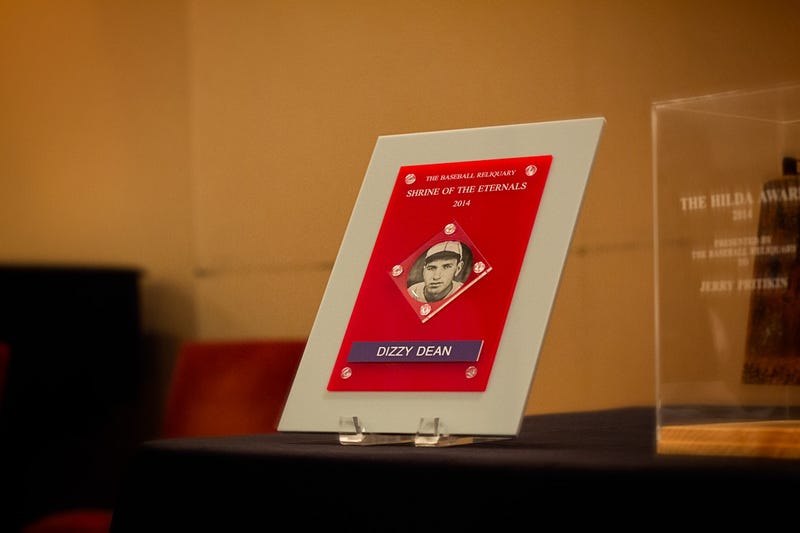 A few weeks ago, Dizzy Dean was inducted into the Baseball Reliquary's Shrine of the Eternals. Our man John Schulian was there to honor the occasion.
Dizzy Dean was baseball's one-man free speech movement. There were big names with untamed mouths before him, of course, Babe Ruth being the obvious example, but the Babe was only too happy to take time out for the occasional cigar, hot dog, bootleg cocktail, and available maiden. Dizzy, on the other hand, started talking the day he signed his first professional contract for a whopping $300 a month and didn't stop until he drew his final breath.
Upon meeting Branch Rickey, the architect of the St. Louis Cardinals' Gashouse Gang, he announced, "I'm the fella that's gonna win you a lotta ballgames." He set about proving his point as soon as he hit St. Loo, celebrating every victory by leaning out of taxi cab windows and hollering at strangers on the street: "I'm the Great Dean. Want me to sign something for you?" He went one step further when he visited a children's hospital and promised that he'd strike out the New York Giants' Bill Terry, a future fellow Hall of Famer. And strike Terry out he did, a feat he underscored by uttering a line that would take on new life when Muhammad Ali and Broadway Joe Namath began beating their chests: "It ain't braggin' if you can do it."
The sportswriters of the 1930s flocked to Dizzy, which was a surprise because they generally considered it beneath their dignity to converse with the roughnecks they covered for a living. But here was a mesmerizing presence, a raw-boned, unfiltered character who seemed to have ambled from the imagination of Ring Lardner. Somehow every writer came away with a different story about how Dizzy grew up as a sharecropper's son and played catch with his brother Paul—aka "Daffy"—using baseballs that were nothing more than rocks wrapped in yarn from an old sock. Dizzy's given name was Jay Hanna Dean, but he sometimes told writers it was Jerome Herman Dean, in memory of a cousin who drowned in a swimming hole. And that nickname of his? He claimed he got it in the Army, when a sergeant caught him throwing potatoes at a garbage can lid and screamed, "What the hell you think you're doin', you dizzy son of a bitch?" There were other versions of the story, though not as many as there were places he said he'd been born. It was one for this writer and another for that writer, and so on down the line.
"You're gonna run out of states south of the Mason-Dixon Line pretty soon," Leo Durocher, the Cardinals' shortstop, warned him.
"They got a story to write, pardner," Dizzy said. "I'm big news now. If I give this one the same story, what's there left for him to write? That ain't news."
According to the available evidence, Dizzy was born to Alma and Albert Dean on Jan. 16, 1910, in Lucas, Ark. (He was a Capricorn, the Baseball Almanac dutifully points out.) The family drifted through the South and Southwest, working hardscrabble farms and not paying much attention to book learning for the boys. You get some idea of what their life was like when you listen to Billy Joe Shaver, a singer and songwriter from Texas who dipped into his own experience for these lyrics: "I got all my country learnin' milkin' and a-churnin'/ Pickin' cotton, raisin' hell and bailin' hay."
There was, however, a way off the farm for lads weary of staring at the backside of a mule. It was baseball, which Jimmy Breslin, the legendary New York columnist, described as "a sport for hillbillies with great eyesight." It's an observation that conjures up images of milk-fed young brutes hitting line drives that dented the tin outfield wall in Philadelphia's old Baker Bowl and of Hack Wilson, the Chicago Cubs' bibulous slugger, sobering up before games in a tub of ice water tended by a young fellow named Bill Veeck. Dizzy's job as a pitcher was to knock the thunder and lightning out of the opposition's big bats. He claimed to have everything he needed for the job: "A good body, a strong arm, and a weak mind."
Untroubled by self-analysis, he would have a brilliant but star-crossed career as a pitcher who feared no hitter and wound up nailed to a cross of bum luck. He won 18 games for the Cardinals as a rookie in 1932, and then reeled off four straight 20-victory seasons, the highlight of them being the 30 wins he racked up in 1934. No National League pitcher has won that many games in a single season in the post-dead ball era, or had as much fun, or riled up quite as many people when he wasn't winning hearts and minds among the rest of the populace. It was Dizzy Dean more than anyone else who put the gas in the Gashouse Gang.
Some call the Gang the second greatest team ever, surpassed only by the 1927 Yankees. But Leo Durocher, always honest, seldom kind even when the subject was his old ball club, went to his grave saying there were a dozen or more teams better than the Gashousers. But the rowdiest, scrappiest, brawling-est team ever? The team that seemed to have been put together just to give Depression-stricken America a band of underdogs to root for? Now there you could make a case for the Gashouse Gang.
Their nicknames alone offered a kind of escapist poetry to the hard-luck cases riding the rails and seeking out soup kitchens: Rip Collins at first base ... Frankie Frisch, the Fordham Flash, at second ... Leo the Lip at short ... Pepper Martin, the Wild Horse of the Osage, at third ... Ducky Joe Medwick in left field ... and, of course, the Dean brothers, Dizzy and Daffy, on the mound.