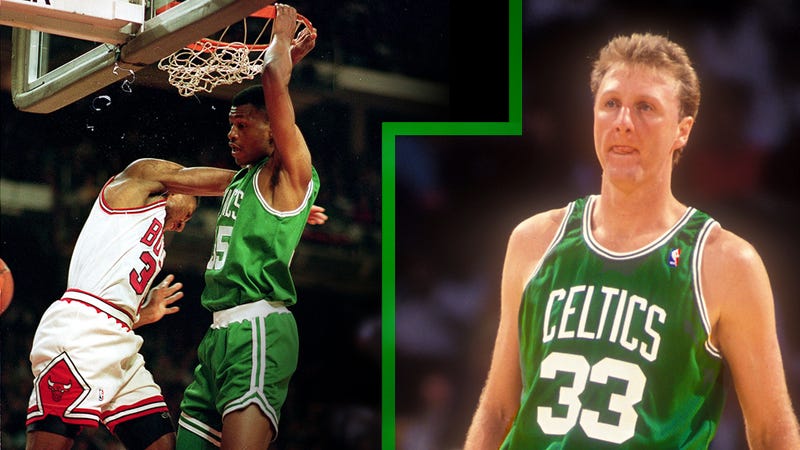 Excerpted from Unfinished Business, a chronicle of the 1990-91 Boston Celtics season, now available as an e-book. The author's annotations appear throughout the story.
November
November 8 was officially celebrated as "Cheers Day" in Boston. The cast of the long-running sitcom, which is set in a Boston bar, had been honored with a ceremony at City Hall Plaza, and most of them were coming to the Friday night game against the Bulls at Boston Garden. On the morning of the game, Bebe Neuwirth, who plays Lilith, and a dozen or so other assorted producers, writers, technicians, family members, and friends gathered at the Garden for the NBA ritual known as the morning shootaround. If the Cheers group had come to experience the Garden's spartan ambience, they weren't disappointed. The place was freezing and it smelled like sour beer. Out on the court, Kevin Gamble blew on his hands as he shot free throws and Ed Pinckney wore a gray sweatshirt zippered up past his neck. The night before, Dave Gavitt had encountered George Wendt, the roundish character actor who plays the beer-drinking Norm, at a health club, but didn't realize it.
"This guy was real nice to me, talking and everything as we rode the stationary bike," said Gavitt, the team's senior executive vice president, "but I had no idea who he was until I went home that evening, switched on the news, and watched him getting the key to the city. All I knew was that the guy made me feel pretty good." (Physically, Gavitt is somewhat of a smaller version of Wendt.)
"Wait a minute, you never watched Cheers, Dave?" someone asked him. "Christ, the show's been on for nine years."
"Think I've seen it twice," said Gavitt. "I basically have the TV for news and sports." This Auerbach hire was no lollygagger, that much was certain.
As they walked onto the court, most of the players paused for a few seconds and nodded at Lilith, looking no doubt for Rebecca and Sam Malone, but the Cheers people were waiting for Larry Bird. One could hear whispers of "Larry" and "Bird" and "When's he coming?" Finally, Bird walked out, cast a look neither right nor left, grabbed a ball from the rack, twirled it behind his back, and dribbled onto the court, altogether underwhelmed by the Hollywood invasion. Kevin McHale came out a few minutes later, though, and the response was entirely different. He engaged Neuwirth in animated conversation, waved at various others, signed autographs for the kids. McHale had appeared as himself on one of the show's more memorable episodes a couple months earlier, demonstrating an on-camera ease that can't be taught. He even contributed an original line (caustic, of course) about the Pistons' Bill Laimbeer and suggested that Woody Harrelson, who portrays a hick bartender from the Indiana farm country, refer to Bird as "a dufus." McHale pooh-poohed a future acting career—"About all I could play is monsters, Lon Chaney types with long arms," he said—but he was obviously smitten with his taste of Hollywood.
---
On a blustery cold Tuesday evening two days before Thanksgiving, Reggie Lewis and Brian Shaw, along with their agent, Jerome Stanley, stood behind a table in a large room at Roxbury Community College tossing around turkeys. They wore gloves to handle the three hundred frozen birds that were to be handed out to needy Boston families. "I don't think Chris Ford would like it if Reggie and Brian showed up tomorrow night [for the Celtics' home game against Houston] with 'turkey elbow,' " joked Willie Maye, sports director at WILD, the Boston area's best-known black radio station. "You guys better take it easy." Lewis had wanted to do something for the black community but didn't want to make a big deal about it, so he and Stanley put together the turkey idea, announcing it only on Maye's program and downplaying the fact that any Celtics were involved. Helping out, besides Maye, were Lewis's fiancee, Donna Harris, and a few other friends. Donna actually had the toughest job—checking public assistance cards and turning away anyone who didn't have one. And some didn't go very quietly. When Stanley and the players arrived at about six-thirty, a half hour before the designated pickup time, the line wound all the way around the building and into the street. A policeman told Shaw that families had begun gathering about four o'clock.
"Mister, listen to me, Mister," a young mother with several children in tow said to Lewis. "I got five kids. Can I have two turkeys?"
Before Reggie could answer, Stanley came over. What are agents for if not to handle the delicate politics of turkey distribution?
"I'm sorry, ma'am, but we have to limit it to one per family," said Stanley.
"But how can I feed five children and myself with one turkey?"
"I don't know, ma'am, but there's a lot of people out there and we can only give you one turkey."
She threw the turkey into a bag and left in a huff.
"Sir, sir, you're doing this all wrong," said another woman to Stanley.
"Now, how is that, ma'am?" said Stanley.
"Outside you've got people cutting in line," she said. "I barely made it in here. Gotta be more organized."
"I'm sorry, ma'am, but we're doing the best we can," said Stanley, smiling, nodding his head, patient but firm, just like when he told Dave Gavitt that, yes, Reggie Lewis needed more money.
It was a portrait of frustration all the way around. Some families never made it into the room and went home empty-handed. Others found one turkey insufficient. And there was Lewis, who only wanted to help, being told that he was "doing this all wrong." It was the flip side of what most athletes experience in their carefully orchestrated public appearances at autograph signings, award ceremonies, and banquets. Incredibly, most of the Roxbury pilgrims didn't even recognize Lewis or Shaw, or, at least, paid them no mind if they did. They had come for the turkeys, not for the gravy of meeting a Celtic or cadging an autograph. That was fine with Lewis, for if there was one Celtic who was used to the shadows, it was Reggie Lewis.
He grew up in the hardscrabble, predominantly black section of East Baltimore, one of four children of Irvin and Inez Lewis. His parents separated when Reggie was young and he saw his father sporadically. He was saved, he said, by the neighborhood recreation sports programs. He was a decent switch-hitting first baseman and a speedy wide receiver motivated by fear. "I remember catching a ball in the middle of the field and going all the way just because I was so scared of being tackled," said Lewis. At the same time, he would fight if he had to. "Kids tried to take your money, so what could you do?" he said. "I remember I had one fight that seemed to go on forever, me and this guy rolling under parked cars, because nobody would ever break up a fight. We finally just gave it up ourselves."
At Dunbar High School, Lewis was a member of the nation's best scholastic basketball team—and arguably one of the best of all time—but never got the headlines. Even in his senior year, he came off the bench as the sixth man, while other players like Muggsy Bogues, Reggie Williams, David Wingate, and Gary Graham got more attention. His coach, Bob Wade, who later moved on to the University of Maryland where he got in trouble with the NCAA for recruiting violations, used to tell him he had "the ugliest jump shot in the history of basketball." Lewis took such joshing quietly, but it hurt inside and he never cared much for Wade's coaching. Reggie vastly preferred the summer-league games at Madison Square Park, which they called "The Dome" (it had a roof), Lewis and Wingate playing for the Cecil Kirk Rec Center, Muggsy and Williams in the uniform of Lafayette Red. To this day, the men he most respects are Calvin Dodson, Anthony Lewis, and Vernon Francis, the unknown rec-league coaches to whom he looked up to as father figures. When it came time to choose colleges, Muggsy, the team leader, went to Wake Forest and the high-profile Atlantic Coast Conference, Williams and Wingate went to the high-profile Big East program at Georgetown, Graham went to the high-profile program at UNLV. Reggie Lewis went to the low-profile program at Northeastern University.
Much to everyone's surprise, including his own, Lewis was an instant star at Northeastern. He took to the city of Boston, and Boston took to him, at least to the limited degree that it noticed Northeastern's basketball program. "I made a great adjustment to college right away," said Lewis. "Maybe it had to do with being away and, at last, being the main guy. I mean, in one year I went from not starting for my high school team to people talking about me going hardship in the NBA draft." When Lewis ended his four-year career as the NCAA's ninth all-time leading scorer, the university retired his number (35). Still, Lewis was surprised when the Celtics made him the twenty-third pick of the 1987 draft. He would bump into Dennis Johnson at a neighborhood pizzeria (Johnson was that rare Celtic who lived inside the city limits), and Celtics scout Rick Weitzman would talk to him after Northeastern games from time to time, but Lewis had no idea that Auerbach even knew he existed. At the press conference after he had been selected, Lewis was again overshadowed … by the ghost of Lenny Bias, who had stood where Lewis was standing just one year earlier. "How do you plan to celebrate?" someone asked him.