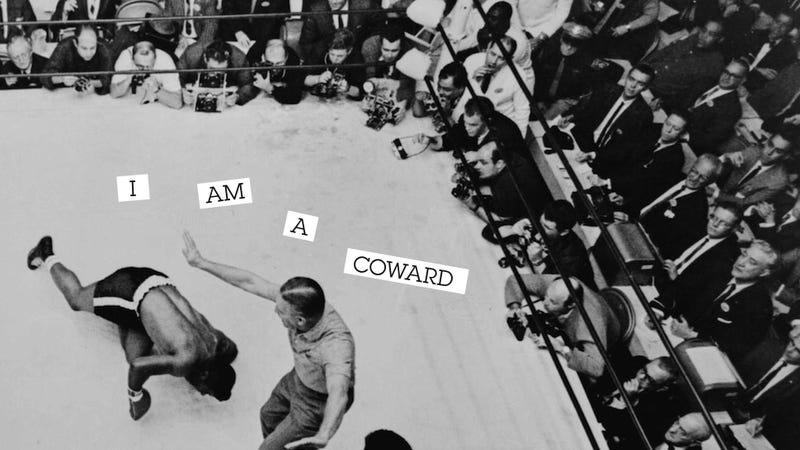 Originally published in the March 1964 issue of Esquire. Reprinted here with the author's permission.
At the foot of a mountain in upstate New York, about 60 miles from Manhattan, there is an abandoned country clubhouse with a dusty dance floor, upturned barstools and an untuned piano; and the only sounds heard around the place at night come from the big white house behind it—the clanging sounds of garbage cans being toppled by raccoons, skunks and stray cats making their nocturnal raids down from the mountain.
The white house seems deserted, too; but occasionally, when the animals become too clamorous, a light will flash on, a window will open, and a Coke bottle will come flying through the darkness and smash against the cans. But mostly the animals are undisturbed until daybreak, when the rear door of the white house swings open and a broad-shouldered Negro appears in gray sweat clothes with a white towel around his neck.
He runs down the steps, quickly passes the garbage cans and proceeds at a trot down the dirt road beyond the country club toward the highway. Sometimes he stops along the road and throws a flurry of punches at imaginary foes, each jab punctuated by hard gasps of his breathing—"hegh-hegh-hegh"—and then, reaching the highway, he turns and soon disappears up the mountain.
At this time of morning, farm trucks are on the road, and the drivers wave at the runner. And later in the morning, other motorists see him, and a few stop suddenly at the curb and ask:
"Say, aren't you Floyd Patterson?"
"No," says Floyd Patterson, "I'm his brother, Raymond."
The motorists move on, but recently a man on foot, a disheveled man who seemed to have spent the night outdoors, staggered behind the runner along the road and yelled, "Hey, Floyd Patterson!"
"No, I'm his brother, Raymond."
"Don't tell me you're not Floyd Patterson. I know what Floyd Patterson looks like."
"Okay," Patterson said, shrugging, "if you want me to be Floyd Patterson, I'll be Floyd Patterson."
"So let me have your autograph," said the man, handing him a rumpled piece of paper and a pencil.
He signed it—"Raymond Patterson."
One hour later Floyd Patterson was jogging his way back down the dirt path toward the white house, the towel over his head absorbing the sweat from his brow. He lives alone in a two-room apartment in the rear of the house, and has remained there in almost complete seclusion since getting knocked out a second time by Sonny Liston.
In the smaller room is a large bed he makes up himself, several record albums he rarely plays, a telephone that seldom rings. The larger room has a kitchen on one side and, on the other, adjacent to a sofa, is a fireplace from which are hung boxing trunks and T-shirts to dry, and a photograph of him when he was the champion, and also a television set. The set is usually on except when Patterson is sleeping, or when he is sparring across the road inside the clubhouse (the ring is rigged over what was once the dance floor), or when, in a rare moment of painful honesty, he reveals to a visitor what it is like to be the loser.
"Oh, I would give up anything to just be able to work with Liston, to box with him somewhere where nobody would see us, and to see if I could get past three minutes with him," Patterson was saying, wiping his face with the towel, pacing slowly around the room near the sofa. "I know I can do better. . . . Oh, I'm not talking about a rematch. Who would pay a nickel for another Patterson-Liston fight? I know I wouldn't. . . . But all I want to do is get past the first round."
Then he said, "You have no idea how it is in the first round. You're out there with all those people around you, and those cameras, and the whole world looking in, and all that movement, that excitement, and 'The Star-Spangled Banner,' and the whole nation hoping you'll win, including the President. And do you know what all this does? It blinds you, just blinds you. And then the bell rings, and you go at Liston and he's coming at you, and you're not even aware that there's a referee in the ring with you.
". . . Then you can't remember much of the rest, because you don't want to. . . . All you recall is, all of a sudden you're getting up, and the referee is saying, 'You all right?' and you say, 'Of course I'm all right,' and he says, 'What's your name?' and you say, 'Patterson.'
"And then, suddenly, with all this screaming around you, you're down again, and you know you have to get up, but you're extremely groggy, and the referee is pushing you back, and your trainer is in there with a towel, and people are all standing up, and your eyes focus directly at no one person—you're sort of floating.
"It is not a bad feeling when you're knocked out," he said. "It's a good feeling, actually. It's not painful, just a sharp grogginess. You don't see angels or start; you're on a pleasant cloud. After Liston hit me in Nevada, I felt, for about four or five seconds, that everybody in the arena was actually in the ring with me, circled around me like a family, and you feel warmth toward all the people in the arena after you're knocked out. You feel lovable to all the people. And you want to reach out and kiss everybody—men and women—and after the Liston fight, somebody told me I actually blew a kiss to the crowd from the ring. I don't remember that. But I guess it's true because that's the way you feel during the four or five seconds after a knockout. . . .
"But then," Patterson went on, still pacing, "this good feeling leaves you. You realize where you are, and what you're doing there, and what has just happened to you. And what follows is a hurt, a confused hurt—not a physical hurt—it's a hurt combined with anger; it's a what-will-people-think hurt; it's an ashamed-of-my-own-ability hurt. . . . And all you want then is a hatch door in the middle of the ring—a hatch door that will open and let you fall through and land in your dressing room instead of having to get out of the ring and face those people. The worst thing about losing is having to walk out of the ring and face those people. . . ."
Then Patterson walked over to the stove and put on the kettle for tea. He remained silent for a few moments. Through the walls could be heard the footsteps and voices of the sparring partners and the trainer who live in the front of the house. Soon they would be in the clubhouse getting things ready should Patterson wish to spar. In two days he was scheduled to fly to Stockholm and fight an Italian named Amonti, Patterson's first appearance in the ring since the last Liston fight.
Next he hoped to get a fight in London against Henry Cooper. Then, if his confidence was restored, his reflexes reacting, Patterson hoped to start back up the ladder in this country, fighting all the leading contenders, fighting often, and not waiting so long between each fight as he had done when he was a champion in the 90-percent tax bracket.
His wife, whom he finds little time to see, and most of his friends think he should quit. They point out that he does not need the money. Even he admits that, from investments alone on his $8,000,000 gross earning, he should have an annual income of about $35,000 for the next 25 years. But Patterson, who is only 29 years old and barely scratched, cannot believe that he is finished. He cannot help but think that it was something more than Liston that destroyed him—a strange, psychological force was also involved, and unless he can fully understand what it was, and learn to deal with it in the boxing ring, he may never be able to live peacefully anywhere but under this mountain. Nor will he ever be able to discard the false whiskers and moustache that, ever since Johansson beat him in 1959, he has carried with him in a small attache case into each fight so he can slip out of the stadium unrecognized should he lose.
"I often wonder what other fighters feel, and what goes through their minds when they lose," Patterson said, placing the cups of tea on the table. "I've wanted so much to talk to another fighter about all this, to compare thoughts, to see if he feels some of the same things I've felt. But who can you talk to? Most fighters don't talk much anyway. And I can't even look another fighter in the eye at a weigh-in, for some reason.
"At the Liston weigh-in, the sports writers noticed this, and said it showed I was afraid. But that's not it. I can never look any fighter in the eye because . . . well, because we're going to fight, which isn't a nice thing, and because . . . well, once I actually did look a fighter in the eye. It was a long, long time ago. I must have been in the amateurs then. And when I looked at this fighter, I saw he had such a nice face . . . and then he looked at me . . . and smiled at me . . . and I smiled back! It was strange, very strange. When a guy can look at another guy and smile like that, I don't think they have any business fighting.
"I don't remember what happened in that fight, and I don't remember what the guy's name was. I only remember that, ever since, I have never looked another fighter in the eye."
The telephone rang in the bedroom. Patterson got up to answer it. It was his wife, Sandra. So he excused himself, shutting the bedroom door behind him.
Sandra Patterson and their four children live in a $100,000 home in an upper-middle-class white neighborhood in Scarsdale, New York. Floyd Patterson feels uncomfortable in this home surrounded by a manicured lawn and stuffed with furniture, and, since losing his title to Liston, he has preferred living full time at his camp, which his children have come to know as "Daddy's house." The children, the eldest of whom is a daughter named Jeannie now seven years old, do not know exactly what their father does for a living. But Jeannie, who watched the last Liston-Patterson fight on closed-circuit television, accepted the explanation that her father performs in a kind of game where the men take turns pushing one another down; he had his turn pushing them down, and now it is their turn.
The bedroom door opened again, and Floyd Patterson shaking his head, was very angry and nervous.
"I'm not going to work out today," he said. "I'm going to fly down to Scarsdale. These boys are picking on Jeannie again. She's the only Negro in this school, and the older kids give her a rough time, and some of the older boys tease her and lift up her dress all the time. Yesterday she went home crying, and so today I'm going down there and plan to wait outside the school for those boys to come out, and . . ."
"How old are they?" he was asked.
"Teen-agers," he said. "Old enough for a left hook."
Patterson telephoned his pilot friend, Ted Hanson, who stays at the camp and does public-relations work for him, and has helped teach Patterson to fly. Five minutes later Hanson, a lean white man with a crew cut and glasses, was knocking on the door; and 10 minutes later both were in the car that Patterson was driving almost recklessly over the narrow, winding country roads toward the airport, about six miles from the camp.
"Sandra is afraid I'll cause trouble; she's worried about what I'll do to those boys, she doesn't want trouble!" Patterson snapped, swerving around a hill and giving his car more gas. "She's just not firm enough! She's afraid . . . she was afraid to tell me about that groceryman who's been making passes at her. It took her a long time before she told me about that dishwasher repairman who comes over and calls her 'baby.' They all know I'm away so much. And that dishwasher repairman has been to my home about four five times this month already. That machine breaks down every week. I guess he fixes it so it breaks down every week. Last time, I laid a trap. I waited forty-five minutes for him to come, but then he didn't show up. I was going to grab him and say, 'How would you like it If I called your wife baby? You'd feel like punching me in the nose, wouldn't you? Well, that's what I'm going to do—if you ever call her baby again. You call her Mrs. Patterson; or Sandra, if you know her. But you don't know her, so call her Mrs. Patterson.' And then I told Sandra that these men, this type of white man, he just wants to have some fun with colored women. He'll never marry a colored woman, just wants to have some fun. . . ."
Now he was driving into the airport's parking lot. Directly ahead, roped to the grass airstrip, was the single-engine green Cessna that Patterson bought and learned to fly before the second Liston fight. Flying was a thing Patterson had always feared—a fear shared, maybe inherited from, his manager, Cus D'Amato, who still will not fly.
D'Amato, who took over training Patterson when the fighter was 17 or 18 years old and exerted a tremendous influence over his psyche, is a strange but fascinating man of 56 who is addicted to Spartanism and self-denial and is possessed by suspicion and fear; he avoids subways because he fears someone might push him onto the tracks; never has married; never reveals his home address.