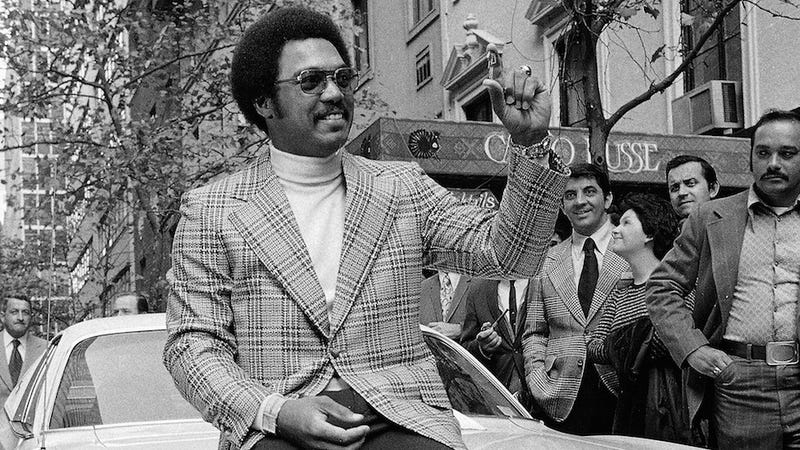 Red Smith is the most respected sports columnist we've ever had. In his prime, Jimmy Cannon, Smith's friendly rival, was certainly as well-known. Cannon, the Voice of New York, was an emotional, colloquial writer whose reputation, unfortunately, has faded. But Smith endures. What is it about his writing that ages so well?
"It's the same reason Shakespeare ages well," Dave Anderson, the Pulitzer Prize-winning columnist told me recently. "He wrote beautifully, it's as simple as that."
The Library of America presents Smith's finest work in the new collection, American Pastimes: The Very Best of Red Smith. It is available now and a must-read for all sports fans, young and old (and an ideal gift for Father's Day). With permission from Smith's family, we've been running a series of Red Smith columns to offer you a sample of what he was all about. Today's column is "The Moving Finger Writes, Etc." which ran on October 19, 1977, the day after Reggie Jackson hit three home runs on three pitches in the deciding game of the World Series.

So, enjoy, and for more on Smith, check out this oral history from Jerome Holtzman's classic,No Cheering in the Press Box; this excerpt from Stanley Woodward's memoir, Paper Tiger; anice tribute by his son, Terrance Smith; and this excerpt from Dan Okrent's introduction toAmerican Pastimes. 'Course it goes without saying that if you want to know from Red Smith you need to go find a copy of Ira Berkow's excellent biography, Red.