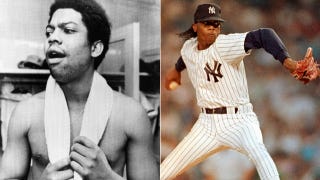 This story appeared in the April 8, 1990 edition of The National Sports Daily. It is reprinted here with the author's permission.

The day Pascual Perez has finally reached the New York Yankees spring training camp, a clubhouse man entrusted with Perez's jewelry bag is unable to resist the temptation to put it on the scale on which the New York Yankees weigh themselves each morning. It registers five-and-a-half pounds. Since Perez himself appears to weight about 65 pounds total—naked, he looks like one of those old-style wooden hat racks you would have found in a private eye's office in 1936—the idea of five pounds of paraphernalia draped upon his spindly shoulders seems remarkable.
"Five-and-a-half pounds," says the clubhouse man. Standing only a few feet away, Dock Ellis registers only mild surprise. Dock Ellis is entranced by another excessive tableau: his own upper torso. He has stripped off a Ralph Lauren polo shirt to reveal his upper body, and is not flexing in front of a mirror, striking the kind of poses you find on the covers of magazines that sit next to the heavy metal fanzines in the 24-hour convenience stores. As he flexes, the scripted tattoo that reads "Manhattan Dock" on the top of his left bicep rides like flotsam on a gently rolling sea.
With the scowl and the grunts, and the earring, and the shaved head, and the ripples of cartilage and muscle and whatever else it is that's stuffed beneath his skin trying to get out, Dock Ellis looks like a cross between Charles Barkley and Mr. Clean on a bad day.
Dock Ellis's first words, uttered at this point, contain an obscenity this paper's style book does not allow. Roughly, his words are, "I'm a bad mother." He draws out the "bad" into six or seven syllables and will use "mother" in one form or another in nearly every sentence. And if the profanity and the posing are largely an act, it's still hard to ignore that once, as a pitcher for the Pittsburgh Pirates, he tried to hit every batter in the Cincinnati Reds' lineup, and, years earlier, had climbed into the stands with a bat in pursuit of a man who'd been hurling racial slurs. Anger seeps out of Dock Ellis' pores so thick it fills the air like ozone after an electrical storm. It seems to be a good anger, a healthy kind of hate, but that doesn't make it any less stunning.