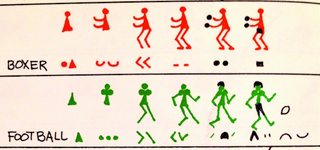 I didn't know from Ed Emberley's Drawing Book: Make a World when I was growing up and I'm not exactly sure how I missed it. Drawing was something I could do well from an early age. But while I was reading Richard Scarry's books and the story about Mike Mulligan and his steam shovel, Emberley was teaching kids how to draw.
Last weekend I visited a friend who'd found his old copy of Make a World at his parents' place. And it was like a revelation.
Sometimes my wife and I will pass the time in a doctor's waiting room, say, playing a version of Pictionary. The fun is in how lame our drawings are, which serves as a necessary distraction. But after looking at Emberley's how-to-draw classic I'm convinced that you don't need to be a kid to learn how to make pictures. Put this one on my wish list this holiday season.