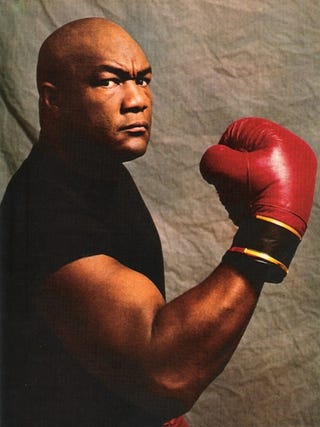 Dig Jan Reid's 1995 Texas Monthly story on George Foreman:
The irony of George's celebrity, which is hardly lost on him, is that it's lavished on a prize-fighter—one who deeply loves his game. Though the populace honors the king, it harbors deep misgivings and class disdain for his bloody realm. But the element that enthralls people who care nothing about boxing transcends a seemingly quixotic seven-year quest that ended with an unmatched athletic achievement. The greater comeback of George Foreman spans four decades, and it is a stirring tale of a human being's reclamation.

He grew up effectively fatherless, first in Marhsall and then in Houston's Fifth Ward, where his mother moved in search of work. When he was fourteen, she was hospitalized for an emotional collapse brought on in part by his bad behavior. She sent a letter home that contained $45 to pay for his sister's graduation ring. George, who soon after that dropped out of school, stole the cash and bought a hat, a sweater, and a bottle of Thunderbird wine. For the next two years he mostly lived on the streets, sleeping in abandoned shells of houses, playing dice, and rolling winos. His chums called him Monkey. One night, after mugging somebody, he slid under a house, hiding from the police. He could smell himself and kept thinking that they were going to send dogs after him, and that the dogs would smell him too.