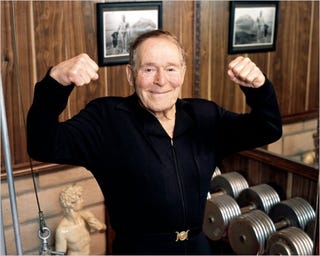 Here's Donald Katz's 1995 profile on the late Jack LaLanne for Outside magazine:
Jack LaLanne, fresh from a "systematic, vigorous, and violent" two-hour workout and only a few weeks shy of his 81st birthday, rose nimbly from a couch and—as if by force of some mechanized habit—struck the pose. The godfather of physical fitness stood there within a glowing nimbus of California coastal sunlight, his feet outspread, his hands clamped to his waist, his elbows pointing wide to each side.

Though the signature Jack LaLanne health and fitness power-pose would be adopted over the years by pro wrestlers, midcentury dictators, Yul Brenner in The King and I, Mr. Clean, and any number of comic book superheroes, the aesthetics and implicit totemic power of the LaLanne stance—as with so many popular accoutrements connected to the realm that Jack still refers to as "physical culture"—was invented years ago by the grinning man standing before me in a blue jumpsuit, probably the greatest gym teacher of all time.