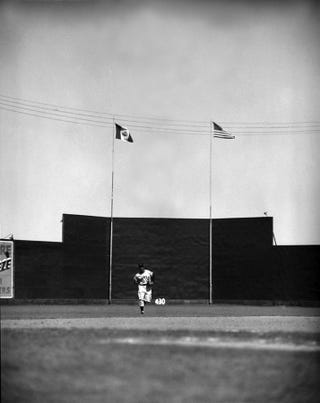 Joe Flaherty's love song to the Say Hey Kid.
When Willie Mays returned to New York, many saw it—may God forgive them—as a trade to be debated on the merits of statistics. Could the forty-one-year-old center fielder with ascending temperament and waning batting average help the Mets?

To those of us who spent our boyhood, our teens, and our beer-swilling days debating who was the first person of the Holy Trinity–Mantle, Snider, or Mays?–it was a lover's reprieve from limbo. No matter how Amazin' the Mets were, a part of our hearts was in San Francisco.

Mays was special to me as a teenager because I was a Giant fan in that vociferous borough of Brooklyn. This affliction was cast on me by a Galway father who reasoned that any team good enough for John McGraw was good enough for him and his offspring. So as boys, rather than take a twenty minute saunter through Prospect Park to Ebbets Field, the Flahertys took their odyssey to 155th Street, the Polo Grounds.