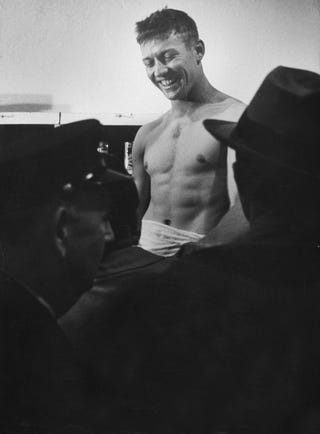 Check out this 1951 column by Red Smith on Mickey Mantle:
An hour and a half before the New Year dawned, Mickey Charles Mantle—he was christened Mickey, not Michael, after Mickey Cochrane, whose name is Gordon Stanley—was standing on the top of the Yankees' dugout looking back into the stands where a kid in a bright windbreaker brandished a homemade sign fashioned from a big pasteboard carton. The sign bore a photograph of Phil Rizzuto, cut out of a program, and crude lettering read: "C'mon, Lil Phil. Let's go."

Sitting on the bench, Casey Stengel could see his newest outfielder only from the chest down. The manager grunted with surprise when he noticed that the sole of one baseball shoe had come loose and was flapping like a radio announcer's jaw. He got up and talked to the kid and came back shaking his head.

"He don't care much about the big leagues, does he?" Casey said. "He's gonna play in them shoes."

"Who is he?" a visitor asked.

"Why, he's that kid of mine," said Mr. Stengel, to whom proper names are so repugnant he signs his checks with an X.