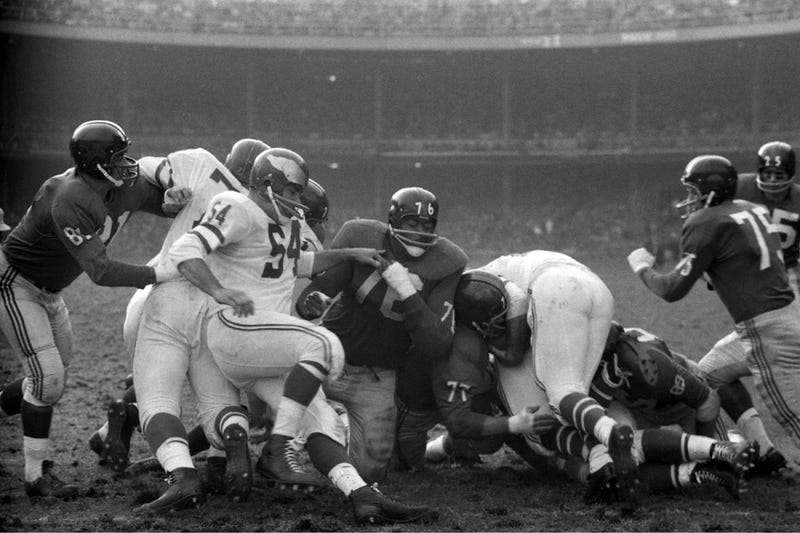 Actor, singer, ordained minister, political activist, author and NFL Pro Bowler the Rev. Roosevelt "Rosey" Grier has enjoyed a full and varied life.
He helped subdue Sirhan Sirhan the night Bobby Kennedy was assassinated. He was part of the Rams' famed Fearsome Foursome. He wrote a best-selling book in the early '70s on the pleasures and challenges of needlepoint. He is a cousin to blaxploitation legend Pam Grier.
During Grier's years in New York, when he played with Big Blue Hall of Famers like Frank Gifford, Andy Robustelli and Sam Huff, the Giants won four Eastern Conference championships and, in 1956, the NFL title. (That's Grier, #76 above, in the middle of the chaos during a game against the Eagles.)
Grier talked with LIFE.com about his experience as a young man from small-town Georgia playing in the Big Apple; his most excellent teammates; and his love of the game.
[See the gallery, "Rosey Grier and the 1960 Giants: Rare Photos."]
Ben Cosgrove is the editor of LIFE.com. Picture This is his weekly (and occasionally more frequent) feature for The Stacks.
Photo: George Silk—Time & Life Pictures/Getty Images