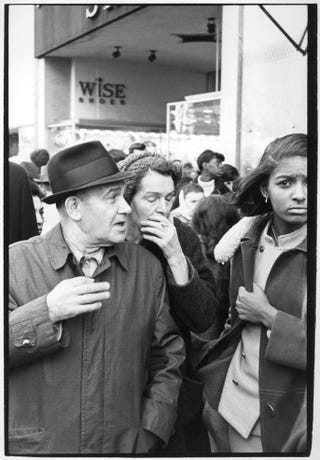 Robert Altman once said that you could make a movie by listening to conversations as you walk down the street.
Overheard on my lunch hour:
Short woman talking into her cell phone: "Don't hang up on me, bitch, I'm trying to fuckin' talk to you."
Two young women:
"W'e're late, it's already 1:15."
"I've got 1:07."
"Oh, that's cause I set my watch ahead to freak myself out so that I'm not late in the morning."
"That's smart."
Business guy talking to another business guy: "And I didn't get in until 2 but I don't even feel hung over."
Dude on his cell phone: "C'mon baby, you know I love you. I love you like cooked food. What? No, for real, I love you like Red Lobsters."
[Picture by William Gedney]