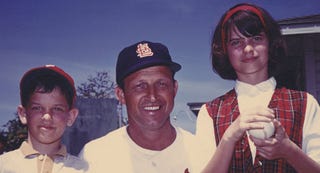 Nice piece by Jane Gross—who we've heard from round these parts before—in the Times:
My father, Milton Gross, was the Yankees beat writer for The New York Post from 1938 to 1949, then its sports columnist until his death in 1973, and most of my childhood was spent as a spring training brat, pulled from school, tutored under a beach umbrella at the edge of the Gulf of Mexico, but mostly at liberty in St. Petersburg Beach from February to April, when that part of the state was unspoiled or slummy, depending on your point of view.

To a child, it was paradise. The now grand Don CeSar hotel was an abandoned Army hospital, a pink stucco ruin, seven miles down the beach from apartments where the Yankees' and the St. Louis Cardinals' entourages pitched camp. Downtown, on Corey Avenue, there wasn't much more than a funeral parlor and the Long Key Public Library, which let itinerant children borrow books. On the outskirts of town was a shack were my mother bought coquina chowder, made from teeny saltwater clams.
[Photo Via: Jane Gross]