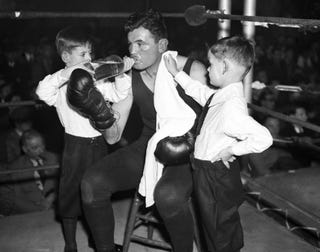 From the cool-ass site—of two cool-ass books—please enjoy Damon Runyon's 1935 column, "The Cinderella Man":
The fistic fairy tale comes true. James J. Braddock, of New Jersey, "the Cinderella Man" of pugilism, is the new heavy-weight champion of the world.

He beats the glamorous Max Baer of California, in a fifteen-round right in the Madison Square Garden Bowl tonight, where no champion has yet successfully defended his title.

Unanimous Decision

The decision of the referee, Johnny McAvoy, and the judges, Charley Lynch and George Kelly, is unanimous, which is the verdict of practically all the 25,000 spectators, who pay upwards of $200,000 to the see the battle.

It is the greatest pugilistic upset in the modern history of the boxing game.

Brought back from Hasbeenville by the magic wave of the wand of sheer chance, after being such a down-and-outer that he had to go on relief in his home State of New Jersey at $24 per month to provide food for his wife and three children, James J. Braddock at 29 years of age suddenly finds himself occupying the pinnacle of the pugilistic heap, with an utterly new life before him.
[Photo Via: N.Y. Daily News]