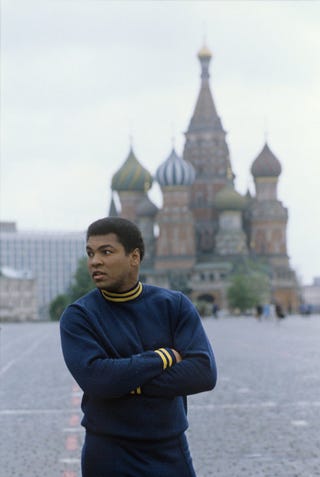 On the table in front of him sit a copy of the holy Koran and a plate holding three frosted raspberry coffee cakes, and when he leans forward on the couch and reaches out it is not for enlightenment. It is for a piece of pastry. With his right hand wobbling just this side of uncontrollably, he guides it, slow inch by slow inch, toward the mouth that once yapped without stopping but that now, largely mute, chews slowly, as the eyes stare straight ahead, seeing nothing; only the patter of a cold rain splashing the leaves of the trees outside the window mars the silence. Flecks of frosting tumble in slow motion to light on his belly, which gently swells beneath a black sweater. I am sitting next to him. Close enough to see the tiny scar on his eyelid that looks like a birthmark. Close enough to hear him chew. Close enough to taste the cake as he tastes it. The look on his face is the fat and happy near smile topping the fat and happy body of all the renderings of Buddha you've ever seen. It is an expression of bemusement and contentment and wonder at the beauty to be found in the simplest things.

As I watch him eat, I have never been more sure of a man's inner contentment. Except maybe when he eats the second piece.

It's not supposed to be Buddha. It's supposed to be Allah, because it is Allah who has ruled his life since even before Liston, and Allah who controls it now more than ever before. The contents of his briefcase say so. He is carrying the briefcase as he enters the room, so still even in walking that he does not disturb the air around him. He opens the briefcase to reveal hundreds of well-thumbed sheets of paper filled with typewritten words. It is the briefcase a man would carry if he were to knock on your screen door to convert you to his faith, and on this day, dressed in black, shoulders slumping toward his paunch, gray sprinkling his temples, he looks like such a man.
From Peter Richmond's fine 1998 GQ Ali profile.