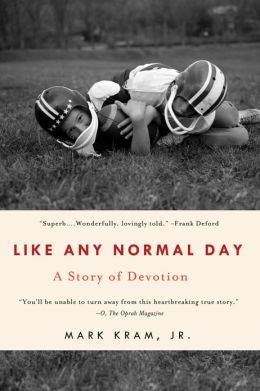 Mark Kram Jr's heart-breaking book, Like Any Normal Day is now out in paperback. Check out this excerpt from SI.com:
Albert "Buddy" Miley was the star quarterback at William Tennent High in Warminster, Pa., when Karen became acquainted with him in the autumn of 1973. Both of them were seniors. He had long hair and a swagger he had borrowed from his idol, "Broadway" Joe Namath. Karen was not particularly fond of football, but they spotted each other one day in the cafeteria and an attraction developed between them. In the week before the third game of the season at Plymouth Whitemarsh, Buddy asked Karen if she would like to do something that Saturday evening. Buddy said he would give her a call. When Karen did not hear from him, she just assumed something came up, but soon learned that Monday in school that Buddy had fractured his vertebrae in the game and was paralyzed. Rumors circulated that he was near death.

Karen stopped by to see him at Sacred Heart Hospital. As the daughter of a Navy officer, she had moved from place to place during her youth, a circumstance that did not lend itself to forming lasting friendships. With some health problems herself, she had been treated at the Navy hospital, where she found herself surrounded by ailing Vietnam War troops. Seeing Buddy in the dreadful shape he was in reminded her of them. At the end of that initial visit, Buddy asked her to come back. And she did — each day. Strapped upside down in a Stryker frame, a traction device that allowed him to be flipped over to prevent bed sores, Buddy would gaze down at her as she looked up at him from the floor. She would ask him, "Where do you want to go?" And in a soothing voice that would quell his intense pain better than any drug he would ever take, she would take him on a virtual trip to the beach, where they played in the surf and sat side by side in the sand as the sun dipped in the horizon. Buddy asked a nurse to bring her a yellow rose.

What Karen would remember is that they were so young. Neither fully grasped the permanence of what had happened to him. Instead, they spoke of the life they would share together. Karen told me, "Buddy had this elaborate plan. He would go to college to play ball, and I would go along as part of the package." But with the arrival of 1974, no sooner did Buddy come home from the hospital than Karen went in for kidney surgery. When Karen saw him again, he had become standoffish to her, as if he was searching for a way to let her go. But he could not bring himself to do it, and when they talked again and he discovered she would be leaving with her parents at the end of the school year, his eyes began to fill with tears. He told her not to contact him, that would be too hard, but when he could walk again he would find her. At graduation that spring, as both of them sat in wheelchairs on the stage, Buddy averted his eyes from her as she looked at him.